The Wicker Park Neighborhood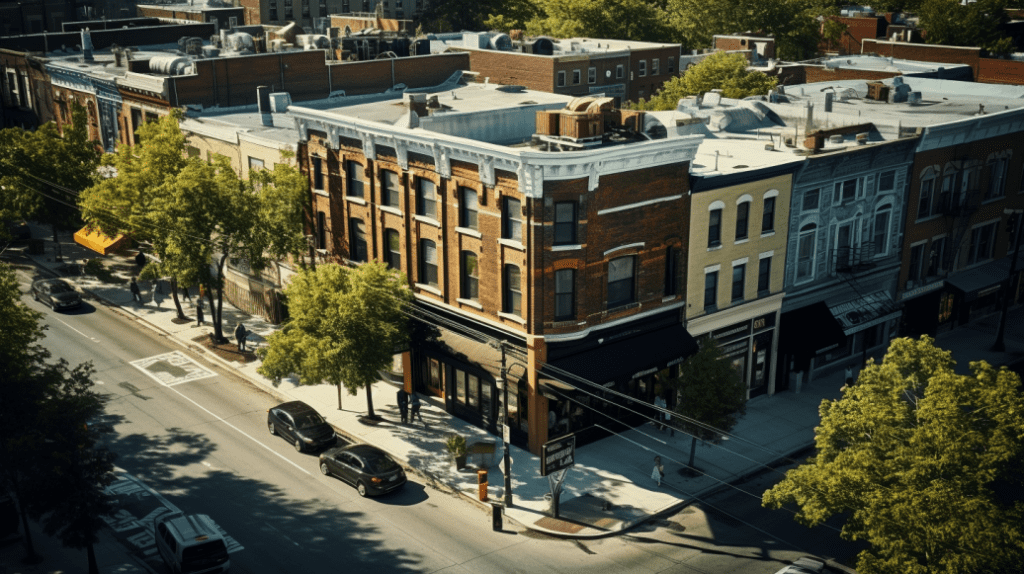 Wicker Park is a vibrant and bustling community northwest of Chicago's Loop. The neighborhood has a large quantity of restaurants and shops with many things to do. This is a great neighborhood to live and play in. There is always something to do and it is far enough away from Chicago to make housing affordable by close enough to make the city accessible. Come see what we have to offer!
Wicker Park is close to downtown so it is a very convenient place for people who work downtown to live do to its close proximity to the Loop, Chicago's public transportation system. Old and new Chicago blend here into an exuberant community with a rich history and a bright future.
History Of Wicker Park In Chicago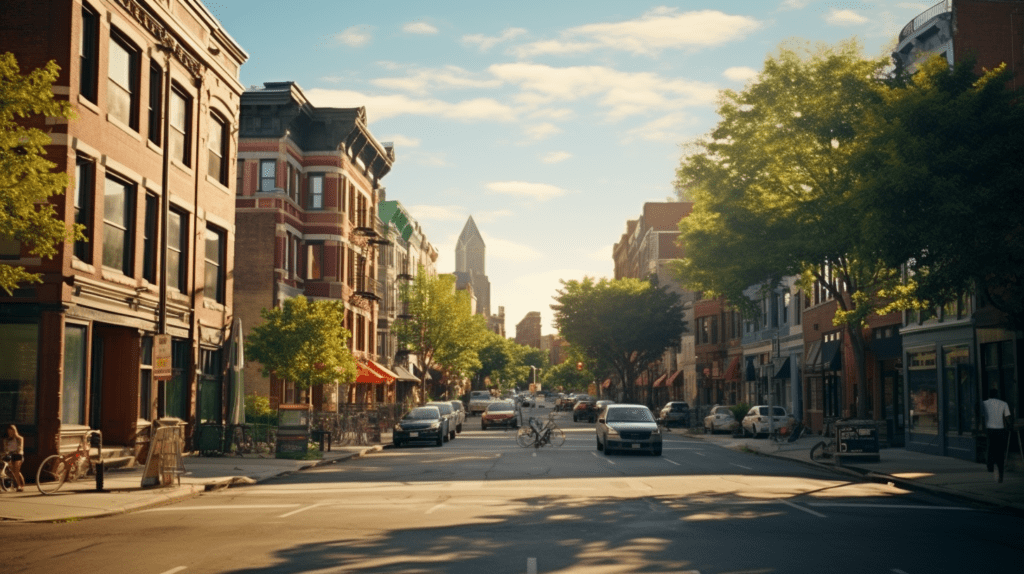 Wicker Park is a neighborhood located on the west side of Chicago, Illinois. It was named after Charles and Joel Wicker, who purchased the land in the 1870s and developed it into a residential area.
Originally, Wicker Park was a predominantly German and Scandinavian immigrant community. However, in the late 19th and early 20th centuries, a wave of Polish immigrants settled in the area, giving it a strong Polish cultural influence that can still be seen today.
During the early 20th century, Wicker Park experienced a period of decline as many residents moved to the suburbs. The neighborhood became known for its dilapidated buildings and high crime rates. However, in the 1980s and 1990s, artists and young professionals began to move into the area, attracted by the affordable rent and the neighborhood's unique character.
This influx of new residents led to a revitalization of Wicker Park. The neighborhood became known for its vibrant arts and music scene, with numerous galleries, theaters, and music venues opening up. It also became a hub for independent businesses, with many locally-owned shops and restaurants opening their doors.
Today, Wicker Park is a thriving neighborhood known for its diverse population, trendy shops, and lively nightlife. It has retained its artistic roots, with numerous art installations and murals scattered throughout the area. The neighborhood also hosts several annual events and festivals, including the Wicker Park Fest and the Renegade Craft Fair.
Despite its transformation, Wicker Park has managed to maintain some of its historic charm. Many of the original buildings from the late 19th and early 20th centuries still stand, and the neighborhood's unique architectural character can still be seen in the mix of Victorian-era homes, worker's cottages, and ornate churches.
Overall, Wicker Park's history is one of transformation and revitalization. From its early days as a German and Polish immigrant community to its current status as a trendy and vibrant neighborhood, it has continually evolved to reflect the changing needs and desires of its residents.
Attractions and Landmarks in Wicker Park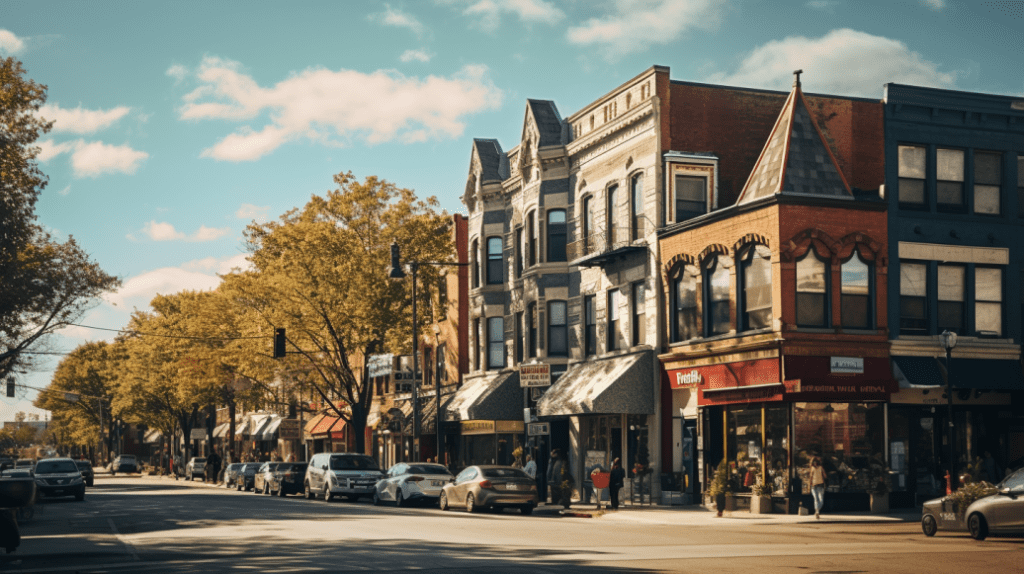 Wicker Park is a vibrant neighborhood in Chicago, Illinois, known for its trendy shops, art galleries, restaurants, and nightlife. Here are some attractions and landmarks in Wicker Park along with the major streets and roads to get to them:
Wicker Park: This neighborhood park is the heart of the area, offering green spaces, a fountain, and a dog-friendly area. Located at the intersection of Damen Avenue and Schiller Street.
The Robey Hotel: Housed in a historic 1929 art deco building, The Robey is a stylish boutique hotel with a rooftop lounge, restaurants, and stunning views of the city. It is located at the intersection of Damen Avenue and North Avenue.
The 606 Trail: This elevated trail, also known as the Bloomingdale Trail, is a former elevated railway line converted into a multi-use recreational path. It runs along Bloomingdale Avenue from Ashland Avenue to Ridgeway Avenue.
Double Door: A legendary music venue that has hosted numerous iconic bands and musicians. Located at 1572 N Milwaukee Avenue, near the intersection of North, Damen, and Milwaukee Avenues.
Violet Hour: A speakeasy-style cocktail bar known for its inventive drinks and vintage ambiance. It is located at 1520 N Damen Avenue, near the intersection of Damen, North, and Milwaukee Avenues.
Emporium Arcade Bar: A popular spot for beer and arcade games, featuring a vast selection of vintage and modern arcade machines. Located at 1366 N Milwaukee Avenue, near the intersection of Milwaukee and Ashland Avenues.
Flat Iron Arts Building: A historic building housing art galleries, studios, and creative spaces. Located at 1579 N Milwaukee Avenue, near the intersection of North, Damen, and Milwaukee Avenues.
To get to these attractions and landmarks:
From downtown Chicago, you can take the Blue Line train to the Damen or Division stop, which are both near the heart of Wicker Park.
If driving, the main roads in Wicker Park are Damen Avenue, North Avenue, and Milwaukee Avenue, which intersect and run through the neighborhood.
Public transportation options also include several bus routes that serve the area, including the #50 Damen, #72 North, and #56 Milwaukee buses.
It's worth noting that Wicker Park is a dense and walkable neighborhood, so exploring on foot is a great way to experience the area and discover additional hidden gems.
Growing Wicker Park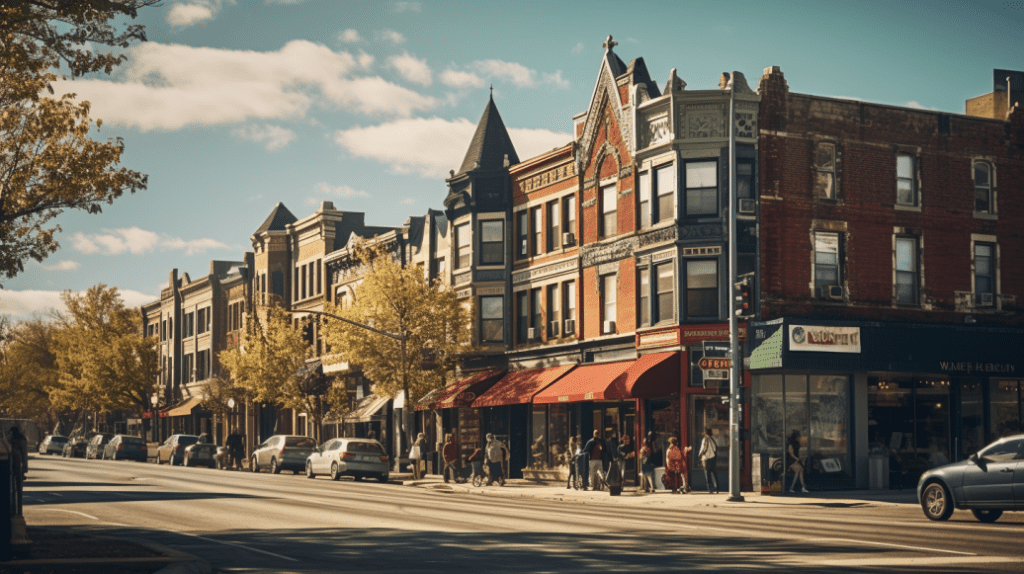 A town defined by it's history but actively shaping it's future, Wicker Park is a great Chicago neighborhood. Being outside of the city means that affordable housing is easy to find in Wicker Park. But do not worry, the distance is hardly noticeable with the easy access to the Loop. The ease of getting into downtown makes this neighborhood ideal for young professionals who want to be close enough to the city for their jobs, but far enough away to get out of the hustle and bustle.
There is so much to do in Wicker Park! Our restaurant scene is vibrant and eclectic. You can find everything from tacos to Italian food with just a short walk. Our local business owners are passionate about the neighborhood and it reflects in their high quality service and food.
Food is not the only thing that Wicker Park does well. We also know how to throw a great party. Festivals are quite an event for us here. With two marquee events during the year. Wicker Park Fest is an exciting and jubilant celebration of art and music with food vendors and local shops and artisans selling their wares. This festival takes place during the summer months when the neighborhood is full of people enjoying the summer sun.
The fun doesn't stop when the weather gets colder though. Chill fest in the fall is our acoustic music festival with musicians coming from all over Chicago and Illinois to perform! This event is book ended by food vendors and local artists so you can see all the best the area has to offer.
If you are looking for somewhere to explore, look no further than Wicker Park! We encourage you to wander and discover your new favorite restaurant or shop. Learn something new about your city. Shop local and enjoy the community members.
Services Offered Here
In Wicker Park, certified collision repair shops are equipped with state-of-the-art vehicle repair equipment and perform all auto repairs services such as body repair, oil changes, general auto maintenance, and car brake repair. Vehicle repair in Wicker Park should only be performed by licensed auto repair shops.