The Neighborhood of Lincoln Park in Chicago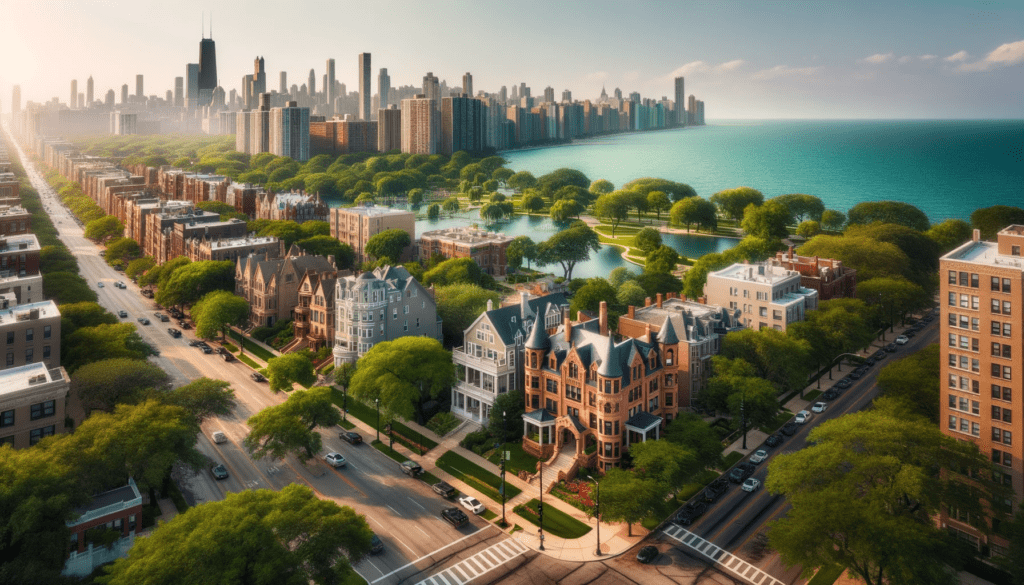 Overview
Lincoln Park is a renowned neighborhood located on the North Side of Chicago, Illinois. Historically significant, it has evolved from its origins as a burial ground in the 1850s to one of the city's most vibrant areas. The district is named after the large park within its boundaries, which serves as a recreational haven for both locals and tourists. Key attractions include the Lincoln Park Zoo, one of the nation's oldest, and the Lincoln Park Conservatory, a testament to botanical beauty. Architectural enthusiasts will appreciate the mix of historic and modern buildings that dot the streets. The neighborhood's commercial heartbeat can be felt along Clark Street, with numerous restaurants, shops, and entertainment venues. Lincoln Park is also home to DePaul University, infusing the area with youthful energy. Accessibility is a breeze with major roads like Fullerton Avenue and Lake Shore Drive. Today, Lincoln Park stands as a testament to Chicago's rich history meshed seamlessly with contemporary urban life.
---
Key Features:
Lincoln Park Zoo: One of the oldest zoos in the United States, it offers free admission and is home to many different animals.
Lincoln Park Conservatory: A beautiful greenhouse and botanical garden where visitors can see a variety of plants from around the world.
Theater and Arts: The neighborhood has several theaters, including the renowned Steppenwolf Theatre Company. Art enthusiasts can also visit numerous galleries and music venues.
Dining and Shopping: Lincoln Park has a wide range of restaurants, cafes, and shops, catering to diverse tastes and budgets.
Parks and Recreation: The area includes a large park, also named Lincoln Park, which has trails, ponds, and open spaces. The lakefront offers activities like jogging, biking, and bird watching.
History and Architecture: Many historic buildings and homes can be found in Lincoln Park, showcasing Chicago's rich architectural history.
---
Transportation:
Lincoln Park is well-connected with public transportation options, including buses and trains. The neighborhood is also bike-friendly, and many areas are easily walkable.
---
Education:
The neighborhood is home to several schools and educational institutions. DePaul University, one of Chicago's largest private universities, is located here.
---
Living in Lincoln Park:
Many people choose to live in Lincoln Park because of its mix of urban life and natural beauty. The community is active and offers a range of housing options, from modern apartments to historic homes.
---
Visiting Lincoln Park:
If you're planning to visit, there are plenty of accommodations available. You can explore the parks, dine in the restaurants, or attend a live performance. Whatever you choose, Lincoln Park has something for everyone.
History of Lincoln Park:
Lincoln Park, situated on Chicago's North Side, boasts a rich history that contributes significantly to its unique character. Originally, the area was a small cemetery where thousands were buried following the cholera outbreak in the 1850s. However, as the city grew, it was decided to convert the space into a park. Over the years, the neighborhood around the park developed, benefiting from the Great Chicago Fire in 1871, as many of the city's residents moved to the area to rebuild. By the late 19th and early 20th centuries, Lincoln Park transformed into a hub for the arts, culture, and urban life, attracting a diverse population.
---
Landmarks and Attractions: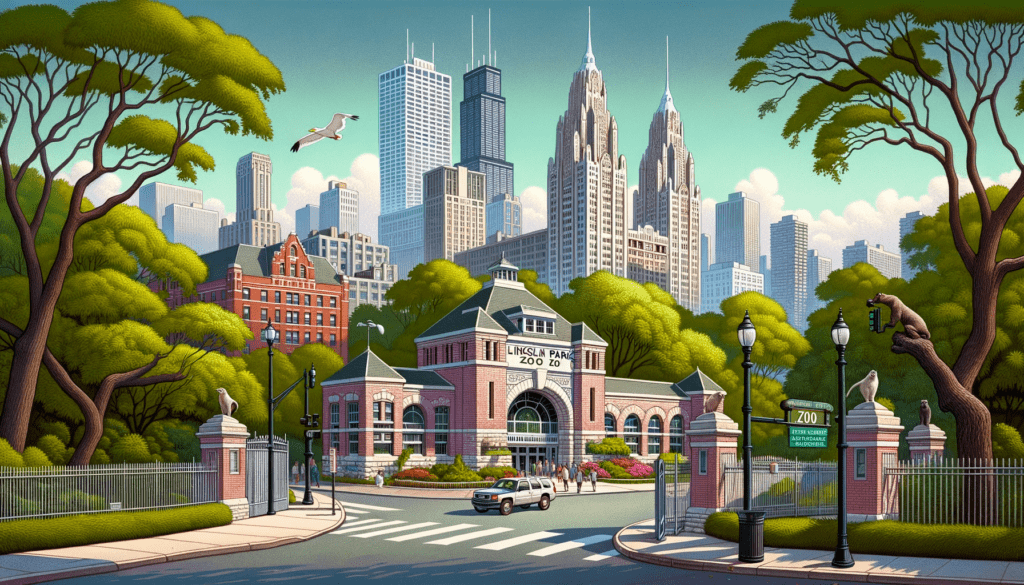 One cannot talk about Lincoln Park without mentioning the Lincoln Park Zoo, one of the oldest in the U.S., offering an array of animals and conservation programs. Another gem is the Lincoln Park Conservatory, where a vast collection of exotic plants and flowers await visitors. Apart from these, the Peggy Notebaert Nature Museum provides interactive natural history exhibits, and the Alfred Caldwell Lily Pool is a peaceful spot showcasing prairie-style landscape architecture.
---
Major Streets and Connectivity:
Navigating Lincoln Park is made easy thanks to its well-laid-out streets. Clark Street is the main commercial thoroughfare, lined with restaurants, boutiques, and entertainment venues. Parallel to it is Halsted Street, another vibrant strip known for its nightlife and theaters. Fullerton Avenue bisects the neighborhood, providing easy access to both the lakefront and the western parts of the city. Additionally, Lake Shore Drive runs along the eastern edge, offering picturesque views of Lake Michigan and facilitating quick commutes.
---
Modern-Day Lincoln Park:
Today, Lincoln Park is a harmonious blend of its historical roots and contemporary influences. The neighborhood is marked by Victorian-era buildings juxtaposed with modern architecture. Its streets are lively, filled with students from DePaul University, families enjoying a day out, and professionals headed to work. With a combination of natural beauty, a central location, and a rich history, Lincoln Park continues to be one of Chicago's most sought-after neighborhoods.
Shopping In Lincoln Park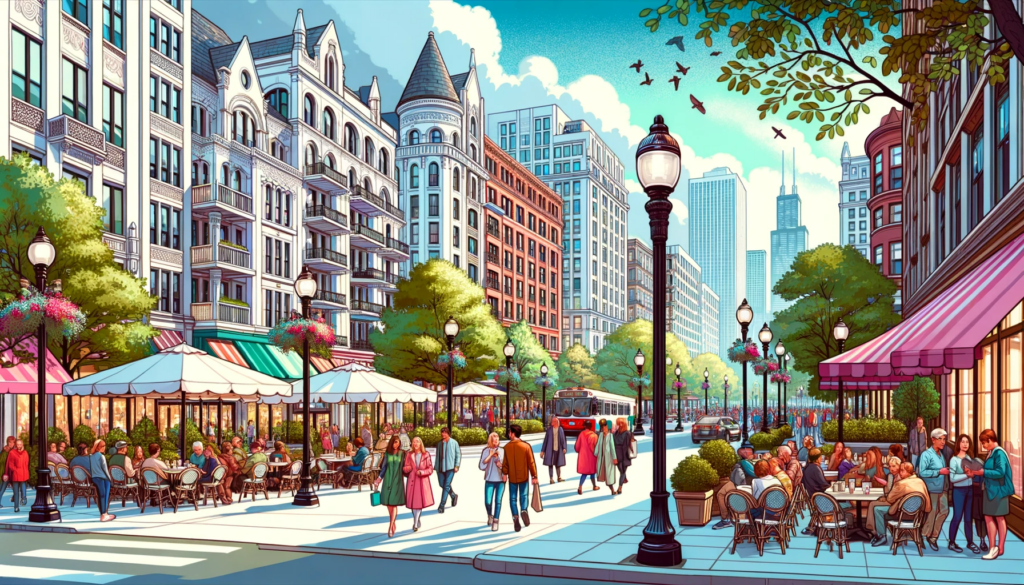 If you are looking for shopping, Lincoln Park has you covered. The Clybourn Corridor is a retail district located in the neighborhood. The district includes: Apple Inc., Crate & Barrel & CB2, Eddie Bauer, Forever 21, and Sur La Table,Dick's Sporting Goods,Chicago's first ArcLight Cinemas, a Kings Bowl, Chicago's largest Mariano's, and more. No matter what you are shopping for, you can find it in the Clybourn Corridor.
Real Estate
If you are looking to live in Lincoln Park, you have to be prepared to shell out a significant amount of money. The average single family home is currently going for $1 million and many homes can cost up to $10 million. The area now hosts the most expensive block in the city which is designated as the area between Armitage Avenue, Willow Street, Burling Street, and Orchard Street.
The Lincoln Park neighborhood is accessible by public transportation making getting around the city fairly easy. The Chicago Transit Authority has both train and bus stations in the area. The area is also easily accessible via car by Lake Shore Drive and the Kennedy Expressway.
Restaurants
There are many restaurants in the area. One of the most famous Aliena, calls Lincoln Park home. The restaurant has been awarded three Michelin stars which makes it one of only two restaurants in Chicago with this distinction. The food focuses on Molecular Gastronomy and proudly changes its menu frequently so you never have the same experience twice. Come visit this neighborhood gem of Chicago soon!
Other notable restaurants include North Pond Cafe and Lettuce Entertain You. Lettuce Entertain You is a chain restaurant that was home to one of the first salad bars. The Weiner's Circle is a restaurant famous for its polish sausages and Potbelly Sandwich Works is also in Lincoln Park.
There is something for everyone's tastes in Lincoln Park.
Auto Shops in Lincoln Park
In Lincoln Park, Chicago auto repair services are offered to drivers that need their vehicles serviced. Certified mechanic shops are equipped with state-of-the-art vehicle repair equipment and perform all auto repairs services such as body repair, oil changes, general auto maintenance, and car brake repair. Vehicle repair in Lincoln Park should only be performed by licensed auto repair shops. Popular mechanic services include:
Exciting and Vibrant Lincoln Park
Living in Lincoln Park is expensive. People who want to live there have to be prepared to shell out a significant amount of money. The average single family home is currently going for $1 million and many homes can cost up to $10 million. The area now hosts the most expensive block in the city which is designated as the area between Armitage Avenue, Willow Street, Burling Street, and Orchard Street.