Windshield Repair West Lakeview
Front Windshield Replacement
Damage to the windshield is almost never convenient or anticipated. The only option in such cases is to replace the windshield completely. However, if a chip or crack is six inches or smaller, Chicago Autohaus may only require a simple repair.
Rear Windshield Replacement
Do you have broken rear car windows? Rear windshield replacement West Lakeview can be simple and quick even though a windshield repair might not be feasible. In as little as an hour, Chicago Autohaus can get you back on the road.
How is a rear windshield changed?
When you visit us for a replacement rear windshield, our technicians will:
Examine the damage thoroughly.
Take out the cracked glass.
Clean the vehicle of any dirt and glass with a vacuum.
Place a new rear windshield in place
Verify that any technical or defrosting capabilities are operational.
Clean every piece of glass on your vehicle.
Our West Lakeview windshield installations of a new back windshield come with a lifetime nationwide craftsmanship warranty when we replace your rear window. Our technicians are ready for same-day service so you can get back on the road when the damage compromises your safety.
When you choose us to replace your rear windshield, you can count on receiving the greatest customer service and the assurance that your back window has been quality-checked to comply with vehicle installation regulations.
Rear windshield replacement may be inconvenient, but we vow to make the process as easy and painless as we can so you can go about your day. Today, make an online service request.
Side car window replacement
Damage to auto glass extends beyond your windshield.
A cracked car window leaves you vulnerable to the elements and makes your vehicle more appealing to thieves. When you use a band-aid or temporary fix for your shattered window, your belongings and the interior of your car are not protected. The fastest method to get your car or truck window mended and back on the road is to call Chicago Autohaus to repair or replace your window if it was broken by road debris or destroyed in an accident.
When you book auto glass service with Chicago Autohaus, we can fix your car or truck window so you can get back on the road. We can service your car windows with repairs or full replacements.
Power Window Repair
You require more than a simple fix if your power window has ceased functioning.
One of your vehicle's most used components, side windows can quickly deteriorate if you attempt to repair them yourself or use the incorrect parts. You and your vehicle should only receive top-notch power window repair services. At Chicago Autohaus, you can rely on our knowledgeable technicians to get your power window motor back in working order.
Services for power window repair and replacement
At Chicago Autohaus, our skilled technicians in West Lakeview will make sure you get the best components and service for your power window regulator. Your side power window will work perfectly once we repair it since we will restore the motor to its pre-service condition. The greatest part: We'll repair your window swiftly and effectively so you can use it again right back.
The following problems, among others, can be resolved by our power window repair services:
Inoperative power windows
Rolling power windows slowly
Off track automobile windows
Power window switches that aren't working
Malfunctioning power window buttons
Windows that are stuck open
Unresponsive windows
Intermittent operation
Replacement of the windshield
Complete Auto Glass Repair Shop West Lakeview
Windshield Repair
Windshield Replacement
ADAS Recalibration Services
Rear Windshield Replacement
Car Window Replacement
Power Window Repair
Window Tinting West Lakeview
Use window tinting services from Chicago Autohaus to shield you and your passengers from damaging UV radiation.


Front Windshield Replacement
Our windshield repair specialists can quickly get you back on the road, whether you just need a chip repaired or a complete windshield replacement.
Windshield Replacement
Rear Windshield Replacement
If your rear window had been damaged due to a tree limb falling on it or auto collision, we can help you get the glass swapped out with expert precision.
Rear Window Replacement
Vehicle Window and Windshield Repairs
How much does a windshield replacement cost in West Lakeview?
A new windshield might cost between $250 and $400. The price varies depending on the damage type. The make, model, and year of a car can also affect the price.
The price could be higher if you drive a luxury or collectible car. Alternatively the price could increased if your car has modern technology like rain sensors. Since the windshield wipers need to be taken off and replaced, this could further raise the cost.
More and more modern models and premium vehicles may come equipped with driver aid safety systems, rain-sensing wipers, or heads-up displays on the windshield. These significantly raise the price of a replacement windshield. A premium car windshield's high-end replacement cost might range from $1,000 to over $4,500.
While a single chip repair may cost $60 to $100, older models without windshield sensors or special windshield wipers typically cost an average of $250 to $400.
We do everything from windshields to door windows, tinting, and more.
Types Of Windshield Damages
What is considered damage to a windshield?
One or more nicks, chips, or cracks in the front window of your car constitute windshield damage. It is frequently brought on by flying gravel, road debris, or debris from another vehicle. Or you might get into a little collision and damage your windshield.
West Lakeview auto glass specialists divide windshield damage into several groups:
Chips: Also known as dings, stone breaks, or pits, are typically the result of flying rocks. A piece of glass chips off at the impact site, leaving a hole where the glass should be.
Edge crack: A windshield edge crack may begin at or touch the edge of the windshield. These typically measure over six inches in length and are lengthy cracks.
Floater crack: A floater crack can appear anywhere along the middle of your windshield, but it must be at least two inches from the edge. These might be long or short cracks, varying in size.
Stress crack: Because stress cracks are caused by rapid temperature changes, they are distinct from other cracks. Usually, it starts close to the windshield's edge.
Bulls-eye: A bulls-eye could be partial or only partially formed. Every categorization has to do with look. A circle with a large chip in the middle is known as a bulls-eye. Damage to a partial or half moon is not symmetrical.
Stars: A chip in your windshield that has a number of little cracks radiating from it is referred to as a star break or stars.
Combination break: A combination break is a windshield that has two or more different types of damage or several damaged areas.
Work With West Lakeview's Best Windshield Repair Shop!
Complete Windshield Replacement Services
Due to the weather or driving over uneven roads, small cracks and chips in your windshield can deteriorate quickly. When your windshield sustains damage, consult the professionals at our neighborhood service center in West Lakeview, and make an appointment for us to perform a windshield repair or replacement. We use the most current techniques to ensure that our work is safe and dependable while also being guaranteed West Lakeview auto glass repairs.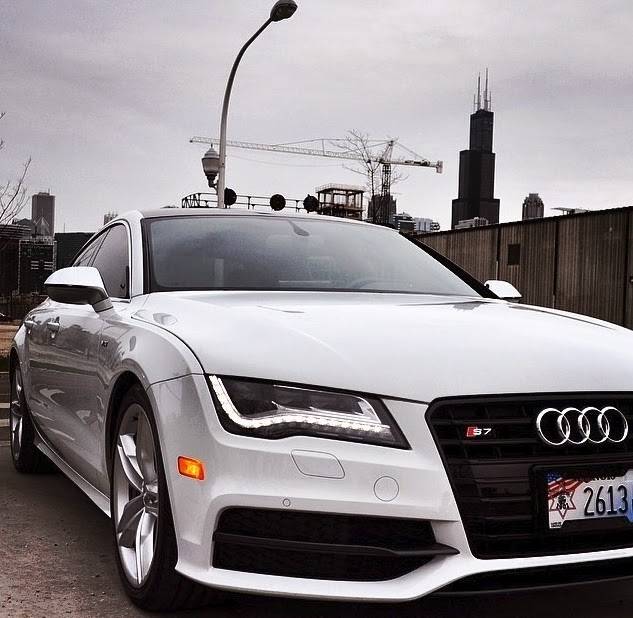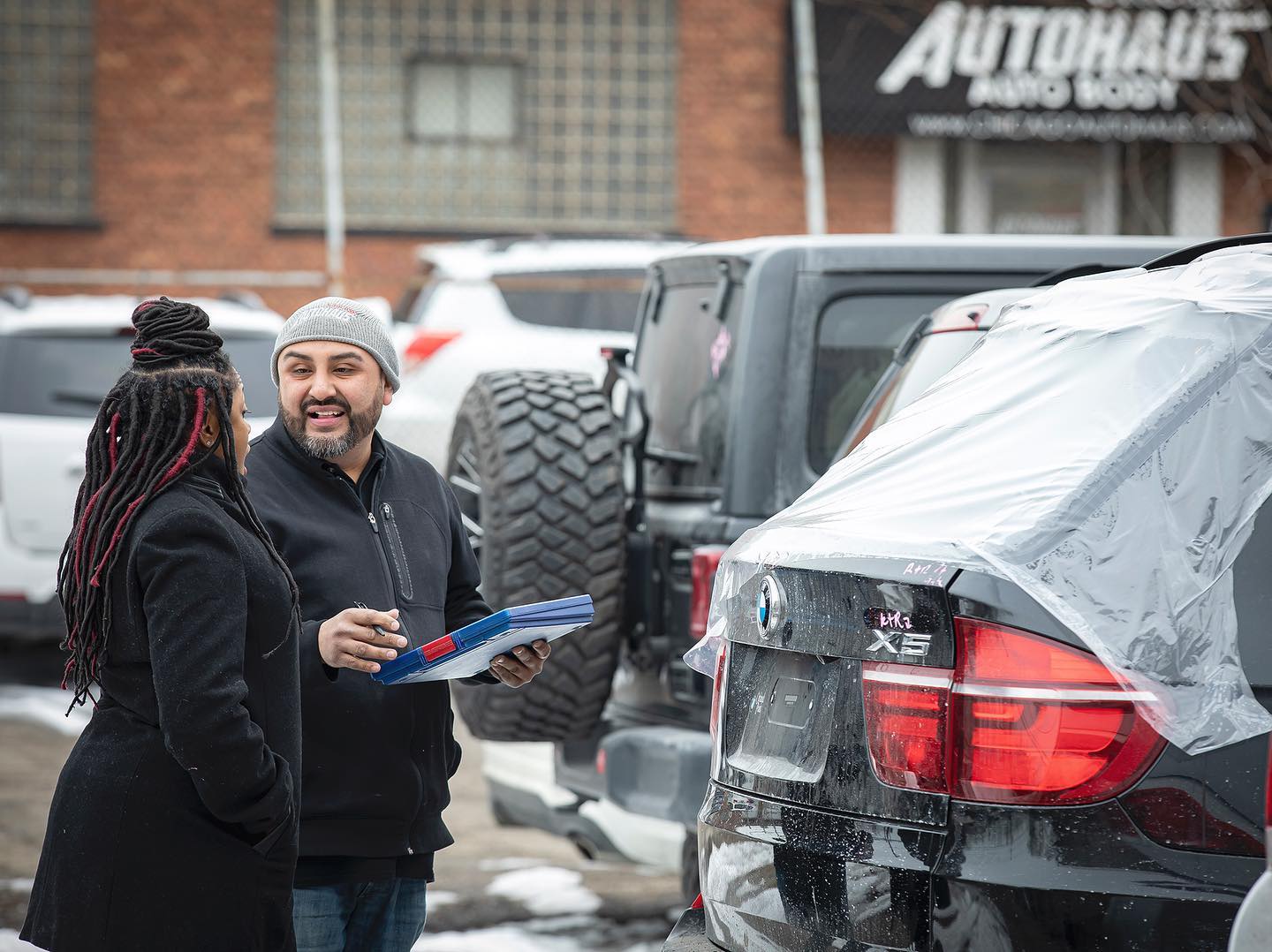 Quite simply, it's one word: You. There is nothing more important. We know your life has been inconvenienced and getting your car repaired is about the last thing you want to do. It's our job to get you back in the game as quickly and safely as possible. Come visit our shop today!
Our Reputation
Nothing means more to us than providing excellent services. Click the button below to read feedback from our satisfied customers.
Book Appointment
Ready to get your repair process started? We are ready to help you get your vehicle back on the road, in it's pre-accident condition!
2321 N Wolcott Ave
Chicago, IL 60614
(312) 835-9747