Land Rover Collision Repair Lower West Side
Land Rover Authorized Aluminum Repair Network
At Chicago Autohaus Certified Collision Land Rover Authorized Aluminum Repair Network, we are mindful of the inconveniences caused by accidents, from the slightest fender bender to a catastrophic collision.
At the same time that your Land Rover's cutting-edge safety measures saved you and your family from major danger, you also experience the loss of having your vehicle damaged and maybe out of action. You are forced to sort through accident reports, insurance claims, and repair estimates before you can even process these emotions. Not to mention the possibility that you will be without a means of transportation while your automobile is being fixed. In situations like these, you ought to seek the assistance of a reputable Land Rover and Range Rover repair facility in Lower West Side, Chicago, Illinois.
For Land Rover repairs in Lower West Side, Land Rover aluminum repair center has teamed up with carefully chosen body shops from the Chicagoland area that have more than 50 years of combined experience. These repair facilities are the finest option for collision repair of Land Rover, Range Rover, or any other brand of luxury SUV due to their dedication to excellence and flawless workmanship. After a collision, Lower West Side drivers can rest easy knowing that a Land Rover shop in Lower West Side will help them get their car back on the road and their lives back in order.
Rover Vehicle Repair Center
Finding the best repair shop is crucial to getting your Land Rover back on the road after any collision, be it minor or severe.
It's important to find a shop that specializes in luxury and off-road cars. Because Land Rovers are built with distinctive features and technology, it's important to have a team of technicians with experience working on these kinds of cars.
Utilizing OEM parts is one of the key advantages of selecting a specialized Land Rover collision repair shop. You can be sure that these parts will fit and function properly because they are produced by the same company that built your vehicle. Using generic or aftermarket parts can void your warranty and cause future issues.
Modern tools and technology will also be used by a competent Land Rover certified facility to fix your car. This includes laser alignment, paintless dent repair, and automated measuring devices. Your Land Rover will be returned to its original factory specifications using these tools and methods.
The turnaround time of the repair shop is an important additional consideration. A quality collision repair shop will work diligently to complete the repairs accurately and expeditiously return your vehicle to you.
Final point: make the warranty offered by the repair facility. A reputable facility will stand behind the repairs they make and provide a warranty.
In conclusion, it's important to find a specialized shop for collision repairs that utilizes OEM parts, cutting-edge technology, and provides a warranty on their work. Considerations like a short turnaround time and skilled technicians are important. You can be sure that your Land Rover will be fixed correctly and put back on the road quickly with the right repair facility.
I-CAR Gold Class Certified Collision Shop
A select number of car body and collision repair facilities in Lower West Side, including our collision centers, have earned Gold Class I-CAR certification. With this qualification, you can rest easy knowing that our technicians have received in-depth instruction in all the areas where they must be knowledgeable in order to correctly repair your Land Rover.
Only 10% of shops, specifically, have facilities that fulfill the demanding Gold Class requirement. By executing safe and accurate auto repairs, we are dedicated to upholding this level. We are adept in safely examining both visible and hidden damage.
Gold Class is not an easy goal to achieve. Several hundred hours of training are necessary. However, we are aware that doing this will keep you safe while driving.
Certified Repair Facility for Aluminum Repair
Since aluminum is a fragile material that needs special handling and care when repairing, we are also among the few shops in the state that are aluminum-certified, which is crucial for repairs today.
Since aluminum is lighter than regular steel, more automakers are utilizing it to help with emissions testing, making their vehicles more environmentally friendly and enhancing their fuel economy.
Additionally, because aluminum is more malleable than regular steel, it requires specialized tools to repair dents. In addition, aluminum responds to heat in a variety of ways, necessitating the use of various handling techniques.
Lower West Side's Top Land Rover Auto Body Shop!
Certified Land Rover Collision Repair Shop In Lower West Side
Land Rover vehicle owners bought their vehicles for an unmatched driving experience, and that experience should continue when searching for certified Land Rover auto body repair centers in Lower West Side, Chicago, Illinois. Finding certified mechanics who are capable of maintaining your Land Rover is critical as a Land Rover owner. You need a Land Rover service center with highly trained, experienced, and Land Rover qualified mechanics, and we have the best! Whether you're dropping off your Range Rover for maintenance or need specific work done on your Defender, you can trust that Chicago Autohaus has the proper equipment, trained technicians, and repair facility required to service Land Rover  vehicles.
We Service The Following Land Rover Models
Defender
Discovery
Discovery Sport
Range Rover
Range Rover Sport
Range Rover Velar
Range Rover Evoque
Freelander
LR2 & LR4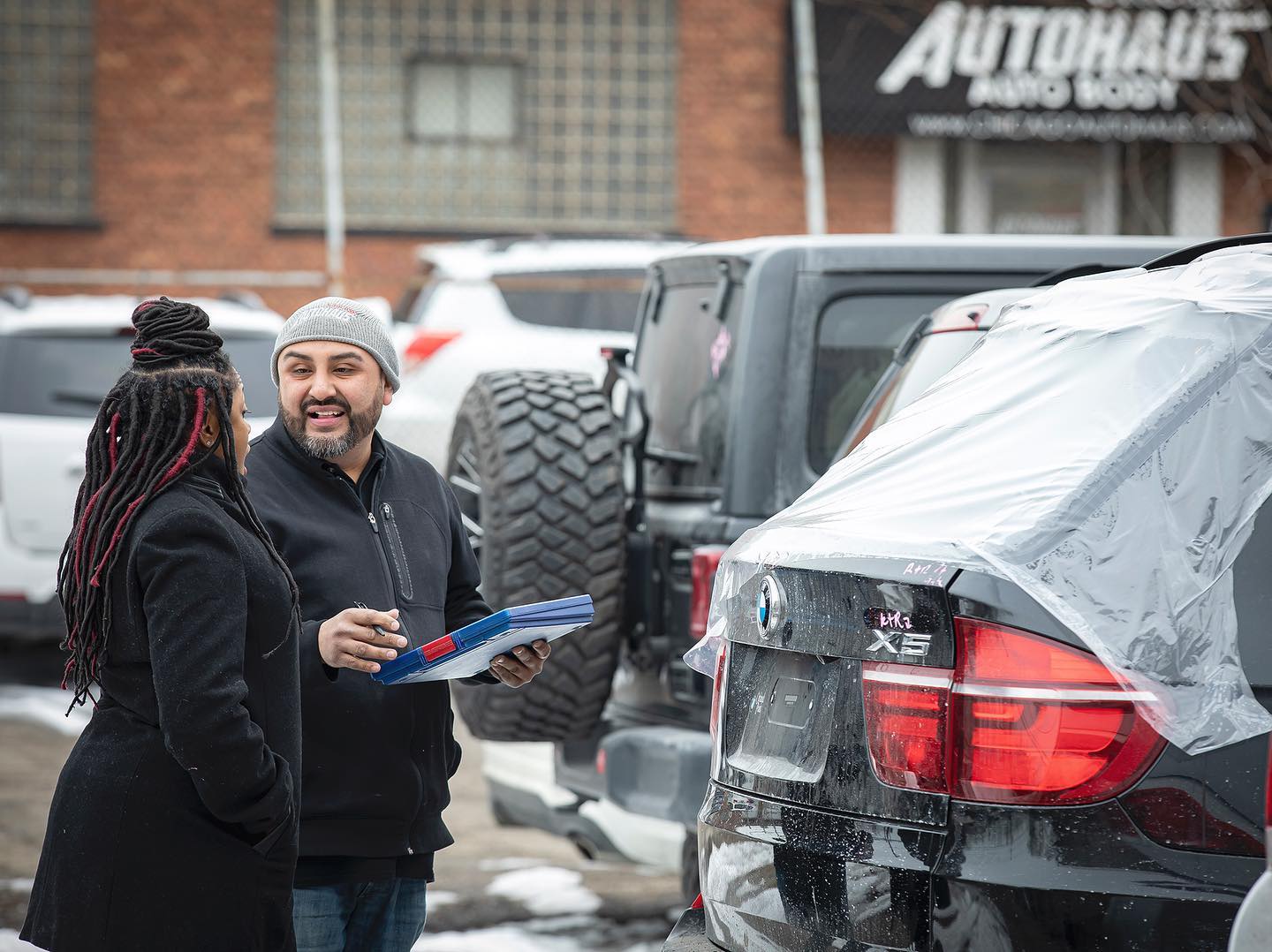 Quite simply, it's one word: You. There is nothing more important. We know your life has been inconvenienced and getting your car repaired is about the last thing you want to do. It's our job to get you back in the game as quickly and safely as possible. Come visit our shop today!
Our Reputation
Nothing means more to us than providing excellent services. Click the button below to read feedback from our satisfied customers.
Book Appointment
Ready to get your repair process started? We are ready to help you get your vehicle back on the road, in it's pre-accident condition!
2321 N Wolcott Ave
Chicago, IL 60614
(312) 835-9747