Finding The Right Chicago Collision Repair Shops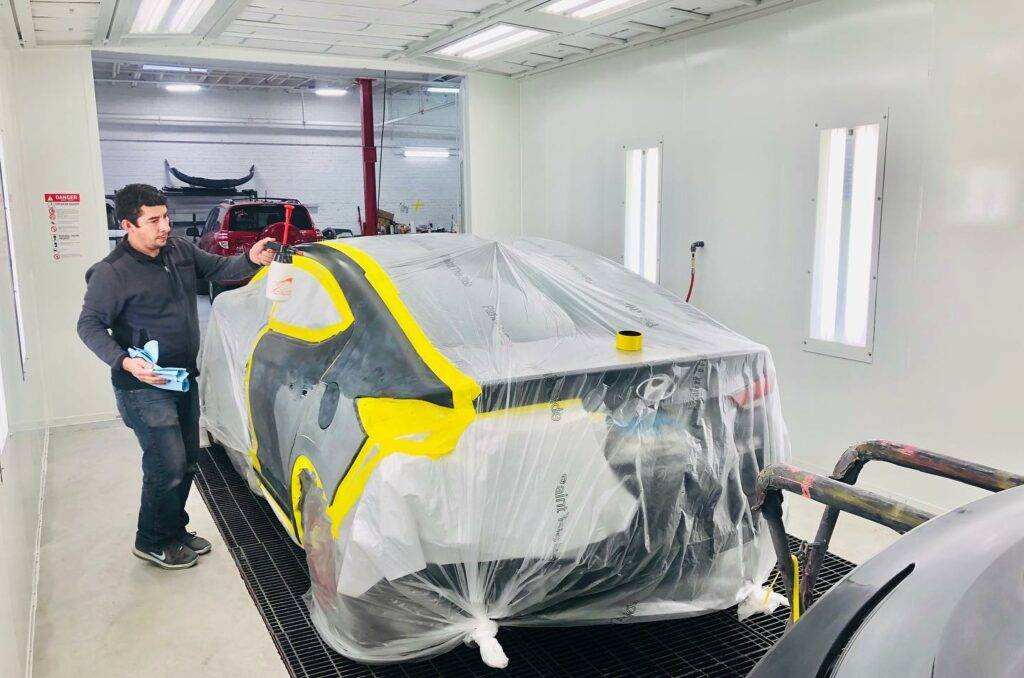 We understand the inconvenience of being in an accident. After talking with the other driver, figuring out where to go is another head ache. In the best circumstance, hopefully you find an auto repair shop near you that is trustworthy and has a complete collision repair services available. Bottom line, you just want to get it over with, and have it fixed properly. If this is you, come visit our local auto collision shop that has already served thousands of damaged vehicles in Chicago, Illinois.
We are entrusted daily by local law enforcement agencies, families, dealerships, fleet management companies, and more with cars and trucks with collision damage. We use the most up-to-date repair techniques and tools available, to ensure your car is correctly and in time. We boast the fastest turn around time out of all State Farm Chicago body shops.
What makes our vehicle collision shop near by the right choice for you?
Experienced Mechanics Fix Your Car: We only employ senior ASE certified mechanics in our auto body repair shops. Our staff has years of experience in the local collision repair industry, and we are trained in the latest collision repair training courses. We will pinpoint your problems, fix them, and get you back on the road in no time.
Honest Work: You'll always receive sincere and crystal-clear information in every single dealing with Chicago Autohaus. You can look us up on your favorite review site for proof of this. He are one of the highest rated local body shops in Chicago on Yelp, Facebook and Google local.
Always Available: Whenever you need us, we are here. Located in the heart of the city, making it easy for you to reach us during an emergency.
Excellent Customer Service: You will always be treated politely and with the respect that you deserve. If you need anything or have a question, just give us a call!
Top-Quality Auto Paint and Materials: Your car will always be fixed with the best quality materials, using the best tools and auto paint available in the auto collision business.
Auto Body Shop Services That Are Offered
All services are performed swiftly by an extremely polite staff and with outstanding rates. These services are available for most models and makes; American made, Japanese made, as well as German and Korean imports. All these services are carried out by highly skilled certified collision repair technicians.
Vehicle Repair and Maintenance
Painting Services
Car & Truck Collision
Vehicle Customization
Extensive Vehicle Repair and Maintenance Programs
If your vehicle is properly maintained, it will greatly outperform a vehicle that's not taken care of properly. It's best for your safety, and your wallet to regularly perform maintenance on your vehicle.
Let our expert ASE-licensed auto technicians evaluate your vehicle, and tell you what maintenance is required. The service will always be carried out in a professional and affordable way.
Premium Chicago Auto Painting Services
Hop on over to our shop if you are looking for an auto paint shop near me. You won't find car painting Chicago, IL can compare to ours. We are a complete-service auto painting facility. Whether you need a touch-up, or an entire new coat of paint, you can count on our specialists to have your vehicle looking like new!
The Very Best Vehicle Collision Restoration
Accidents happen. Whether you were in a fender bender that injured your bumper, need dent removal, or a major accident that crushed your passenger door, you can have it affordably and professionally fixed at our auto repair facility. You might need a dent pulled out, or a scrape painted over, either way, just head on over and let us take your damaged vehicle and return it looking like new.
We carry out computer twist, road force harmonizing and other tire services. You can also get brake repairs, suspension and steering system repairs, and other wide-ranging automotive repairs.
We also perform lube and oil changes for your vehicle, combined with other precautionary maintenance. Our ASE-certified technicians will precisely identify and diagnose the maintenance and repairs you need. We will customize your vehicle according to your needs, using the finest equipment.
We know the power of recommendations, which is why we strive to always leave you feeling completely satisfied. We understand how frustrating it can be when your truck isn't able to drive, so we make sure to finish your repairs and get you back on the road as quickly as possible.
Chicago Autohaus' Best  Automotive Collision Services
If you are looking for quality and precision auto body services, you have absolutely come to the right place. Chicago Autohaus is not just your standard body shop, in fact we try to model our entire culture opposite of what most have come to know as the "body shop industry" or "auto repair industry". The automotive industry has such a stigma of smiling until the deal is made, providing sketchy work and then charging and arm for the services. We have taken the Chicago body shop industry by storm, setting the bar for what auto collision services should be and how customers absolutely need to be treated. As our slogan goes, "We meet by accident, but you leave as a friend". We don't just want business, we want relationships. More specifically the type of relationships that will continue to spread the word about just how great our body shop services are and what a breath of fresh air it is to deal with a company that isn't only interested in your check.
Chicago Autohaus Highlights
High quality paint
Brand new down draft paint booth
Certified paint technicians
Certified auto repair technicians
Perfect paint matching.
In house frame machine.
Fully enclosed paint booth.
Intrusive 5 point inspection of all body work.
We work with all insurance companies.
Fast turn-around time.
Fully protected, large facility for vehicles.
Experienced & helpful staff members.
Small locally-owned business that cares about your car.
Very talented custom body work specialists.
Matte/Flat/Satin paint job specialists.
Lifetime Warranty!