Tesla Auto Body Repair McKinley Park
Expert Tesla Repair Technicians in McKinley Park
To properly restore electrical components in an electric vehicle to pre-collision conditions, specific enhanced training is required. High-voltage system components, such as the battery or the drive motor, may need to be removed from the vehicle in some cases. Our collision specialists rely on the training and equipment that Tesla provides to its collision repair service centers to do this properly and safely.
Only Tesla-approved auto body shops have the training and equipment needed to restore these high-end vehicles safely and efficiently.
Tesla has high standards for both the repair facility and the collision repair technicians in terms of quality and customer satisfaction. Tesla closely monitors all work to ensure that the quality of services provided remains consistent. When you choose Chicago Autohaus to handle your Tesla collision repair, you can rest assured that you are getting the best service possible.
Specialized Equipment For Tesla Body Repair
The structure and body panels of Tesla vehicles are made almost entirely of aluminum, making body repair a difficult task. These cars require unique welding machines that most body shops don't have due to the machine's cost. Lucky you, Chicago Autohaus is not most body shops. We recently acquired an Allsweld ADP-200-3 (welder needed to work on Tesla's.) Our expert mechanics have been trained to use this welder and repair any aluminum damaged on your tesla. Don't wait at a backed-up dealership; bring your Tesla into Chicago Autohaus, and let's get you back on the road asap.
Tesla Models We Service
Chicago Autohaus is concerned about your and your vehicle's safety. That is why we have made it our mission to provide our technicians with only the best training. We are proud to have Tesla Certified Body Shops in the city of McKinley Park, Illinois.
Your technician must be highly trained to understand the specifics of your Tesla when performing collision damage or body repairs to restore its functionality, safety, and longevity.
Are you looking for a Tesla-certified body shop or collision repair shop?
We understand the stress and anxiety that comes with being involved in a car accident at Crash Champions. We understand the importance of having your Tesla vehicle repaired correctly. All Tesla models, including the Model 3, Model X, Model S, and Roadster, have been serviced by our highly skilled team of technicians. Tesla vehicles are unlike any other vehicle manufacturer in terms of repair. To understand the intricate design and technology of a Tesla vehicle, collision centers must have the necessary tools and knowledge.
Only a Tesla Approved Body Shop has invested in the tools, training, and technology needed to restore your vehicle to factory specs after an accident. Only the best should be trusted, so choose Chicago Auto Haus certified tesla repair shop!
Let's get started right away so you can get back on the road!
McKinley Park's Top Tesla Auto Body Shop!
Certified Tesla Collision Repair Shop In McKinley Park
Tesla vehicle owners bought their vehicles for an unmatched electric vehicle experience, and that experience should continue when searching for certified Tesla auto body repair centers in McKinley Park, Chicago, Illinois. Finding certified mechanics who are capable of maintaining your Tesla is critical as a Tesla owner. You need a tesla service center with highly trained, experienced, and Tesla qualified mechanics, and we have the best! Whether you're dropping off your Roadster for maintenance or need specific work done on your Model S, you can trust that Chicago Autohaus has the proper equipment, trained technicians, and repair facility required to service Tesla vehicles.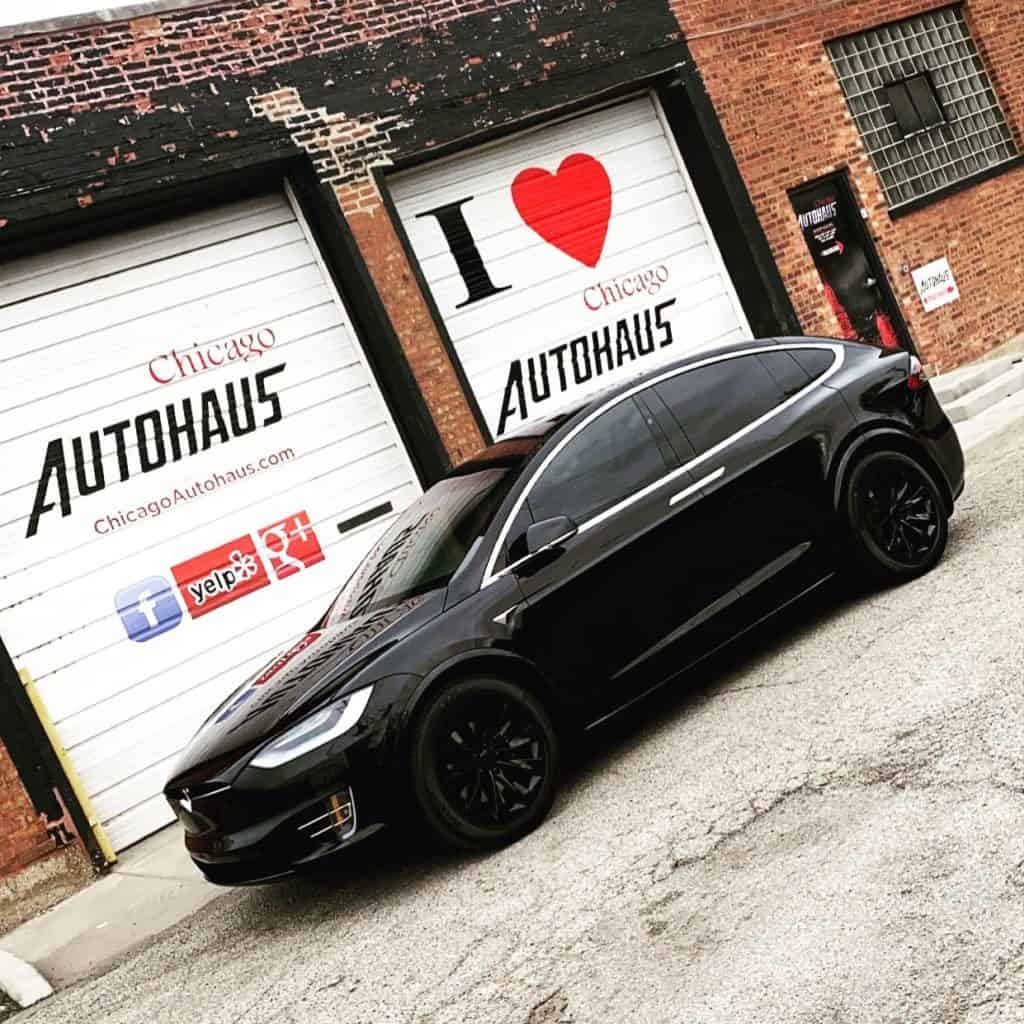 Whether it's your daily driver or just for weekend excursions, the innovative ins and outs of Tesla's vehicles make it a one-of-a-kind experience. We are equipped to work on Tesla models and specialize in the proper procedures for extending the life of your car. Our expert mechanics get to know you and your vehicle so they can provide you with the best-personalized service possible. Chicago Autohaus offers a wide range of Tesla repair services at fair pricing, dispelling the myth that Tesla vehicle repairs are prohibitively expensive. Our primary focus is the best service for you and your Tesla.
Tesla's Network Of Certified Body Shops
Tesla's cutting-edge technology and materials pose unique challenges for EV collision repair shops. Chicago Autohaus is one of the only Tesla-approved external body shops in the area.
The Tesla-Approved Body Shop Network is a collaboration between Tesla and the world's best body shops. Tesla body repair centers are held to the highest standards, requiring rigorous training and assessments of all technicians who will work on your vehicle. Please contact us at to schedule an appointment for your Tesla.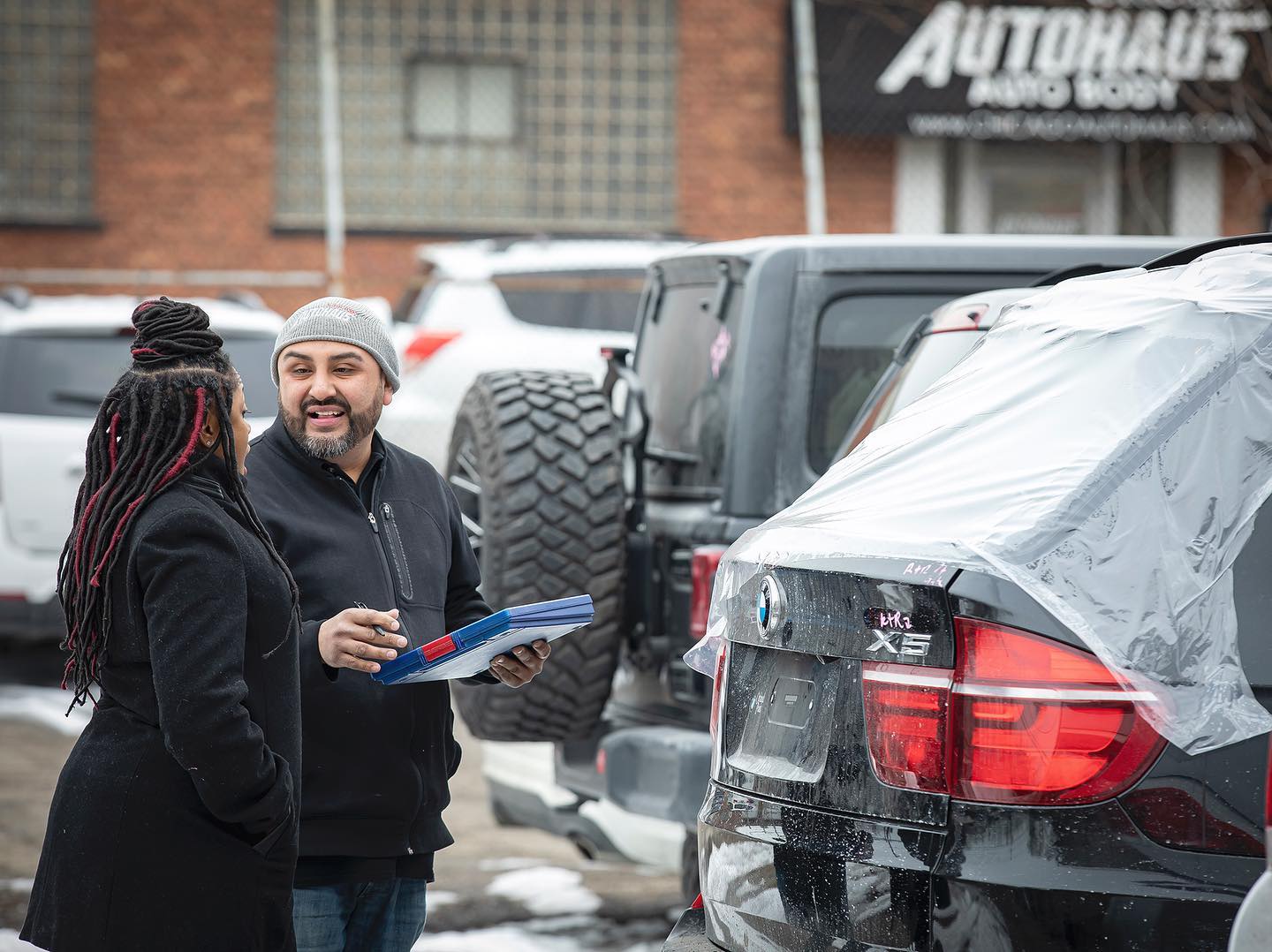 Quite simply, it's one word: You. There is nothing more important. We know your life has been inconvenienced and getting your car repaired is about the last thing you want to do. It's our job to get you back in the game as quickly and safely as possible. Come visit our shop today!
Our Reputation
Nothing means more to us than providing excellent services. Click the button below to read feedback from our satisfied customers.
Book Appointment
Ready to get your repair process started? We are ready to help you get your vehicle back on the road, in it's pre-accident condition!
2321 N Wolcott Ave
Chicago, IL 60614
(312) 835-9747