Auto Paint Repair Chicago
Auto Painting Repairs Service
Car body paint restoration
Bumper repair and paint
Vehicle paint touch up services
Truck paint correction services
When it comes to scratch repair responsible car ownership, there are tasks and work that can be done by car owners who want to go the DIY route, and there are tasks reserved for the professionals, such as paint for automotive repair paint. While preventive maintenance can be done without the help of the pros, corrections required due to collisions should be left in the hands of the professionals. And where you take your car will ultimately depend on the kind of repairs or upgrades to be done.
A team of mechanics and technicians who can restore, replace parts and refinish body panels, bumpers, fenders, window glass and windshields. Like experienced mechanics, our facility has access to tools, equipment and knowledge that will make the vehicle safer to operate once again.
This is the go-to team when people were involved in an accident on the road. But body damage is not just the services that can be provided by your neighborhood auto body. Our team can become your best friend for other related services, especially during the winter season in Chicago, Illinois.
Painting & Custom Paint Jobs
Sometimes, car and truck paint correction becomes a requirement after your car gets involved in an accident or collision of the road. When the damage on your car goes beyond the usual dents and chipping, your car will need an auto painting job to restore your car to its former glory. Keep in mind that many shops that focus on mechanical issues may not offer auto painting jobs.
Vehicle painting is labor-intensive, and requires training, licensing and equipment. It can become a complicated process, that requires filling, sanding, alignment and cleaning. But you can also find a full-service collision repair that can also offer paint repair services, on top of the usual services. These full-service can cover different makes and models, including luxury cars like Audi, Jaguar, Lexus, Mercedes and other domestic and import cars.
All Touch-up Services
If you have been seeking for an affordable and systematically expert for a new vehicle paint job, hop on over to our auto collision services. We are a complete-service auto painting facility. Whether you require a touch-up or entire paint re-spray, you can count on our specialists to have your vehicle appearing like new.
One among our professionally-trained technicians will labor with you to decide the paint service you need to turn the vehicle you drive back into the vehicle you love. As a component of our free quote, you and our technician will inspect the vehicle to identify the required painting work to attain the desired effects within your budget.
Premium Paint Repair Services
We are a complete-service auto painting facility. Whether you need a touch-up, or an entire new coat of paint, you can count on our specialists to have your vehicle looking like new!
As even more makers use more lightweight aluminum, repairability is likewise increasing. What great deals of idea was unrealistic is currently being done more frequently. In addition to the brand-new welding requires for some DRPs, the writing is on the wall surface. To make it through or grow, you require to welcome all modification.
Warm is a requirement for fixing light weight aluminum. The whole panel has to be considered in the procedure, not merely where the dent is. That's also bad, considered that the cost to fix would certainly be much less than changing, and likewise specialists and stores make more loan fixing versus changing.
I advise any kind of store proprietors who got the light weight aluminum welders and set them in the edge to collect dust up until needed to break these negative young boys out and also begin utilizing them. The high quality of welds they produce in steel welding, MIG brazing along with light weight aluminum is fantastic. To not utilize this devices daily is a waste
of money.
Paintless Dent Repair
We as experts found that various light weights aluminum need different welding wire; no one cord covers all sorts of light weight aluminum. Our customer service team presently had an understanding of why this was a problem to suppliers throughout repairs. Similar training and ideas were likewise a variable talked about at length in aluminum training. The education and knowing made us believe concerning vehicle makers' add-on treatments and likewise where the future is taking us for fixing of these panels. Or making use of blind rivets in areas where a flush surface area is needed, such as taillight pockets and pinch welds for glass setup.
It takes so prolonged to do. Warmth is a requirement for fixing aluminum. The price to acquire tools was high when procedure took off, and it still is high. We as service technicians learnt that different lightweight aluminum require different welding wire. The education on lightweight aluminum services prepared professionals for why adhesives need to regularly be utilized with bolts such as welds or rivets.
Having scrapes, scratches, or chips in your paint can destroy your vehicle's appearance, value, and can cause more serious issues as it starts to rust. We comprehend how crucial it is to keep your machine in the most optimum condition. As the best store, we can help cover any imperfections, scratches, or chips that your vehicle might be showing.
We have trained professionals who do this all the time and have actually dealt with numerous cars. They likewise have access to custom-made and top-of-the-line devices.
Chicago Area Auto Body Shop For Paint
Many vehicles can end up being scratched from rocks or gravel being kicked up while driving, hail, or automobile mishaps. Have one of our experts have a look at your cars and truck today by giving us a call or visiting our store. Although we didn't paint the Sistine Chapel, we can certainly restore your automobile's paint to its initial appearance and even tailor it to satisfy your requirements. When you need painting services done right at a fair rate.
Along with dent procedure, we supply exceptional painting services that will get your vehicle looking like brand-new again. We offer several various packages, all with varying cost points and guarantees. No matter the service we're offering, we'll keep your spending plan in mind. We hope that your experience with us is simple, economical, and problem-free.
We provide a procedure called paintless dent process, a cost-efficient service for eliminating small dents and dings. The size and place of the damage will identify if this is the suitable technique to fix your vehicle.
There are many factors that affect the success of paintless dent repair services, as well as the feasibility of such a service. The most crucial of them all is discovering the ideal PDR store or the best specialists. The approach includes careful adjustment of the metal in precise points and at the ideal height; therefore delegating your car into the hands of experienced, knowledgeable service technicians is a must.
Chicago's Top Auto Paint Shop!
Automotive Paint Touch Up Services
"Revamp Your Ride with Our Auto Paint Services!
At [Auto Body Shop], we understand that your vehicle is not just a mode of transportation, it's an extension of who you are. That's why we offer top-notch auto paint services to bring your vehicle back to life and make it stand out on the road.
Our team of skilled technicians use only the highest quality paints and materials to ensure a flawless, long-lasting finish. Whether you're looking for a simple touch-up or a complete color change, we have you covered.
We also offer a variety of custom paint options, so you can express your unique style and make your vehicle truly one-of-a-kind. From custom graphics to racing stripes, the possibilities are endless.
Don't settle for a dull, damaged, or outdated vehicle. Choose [Auto Body Shop] for all your auto paint needs and enjoy a refreshed, revitalized ride that turns heads wherever you go.
Contact us today to schedule a consultation and let's bring your vision to life!"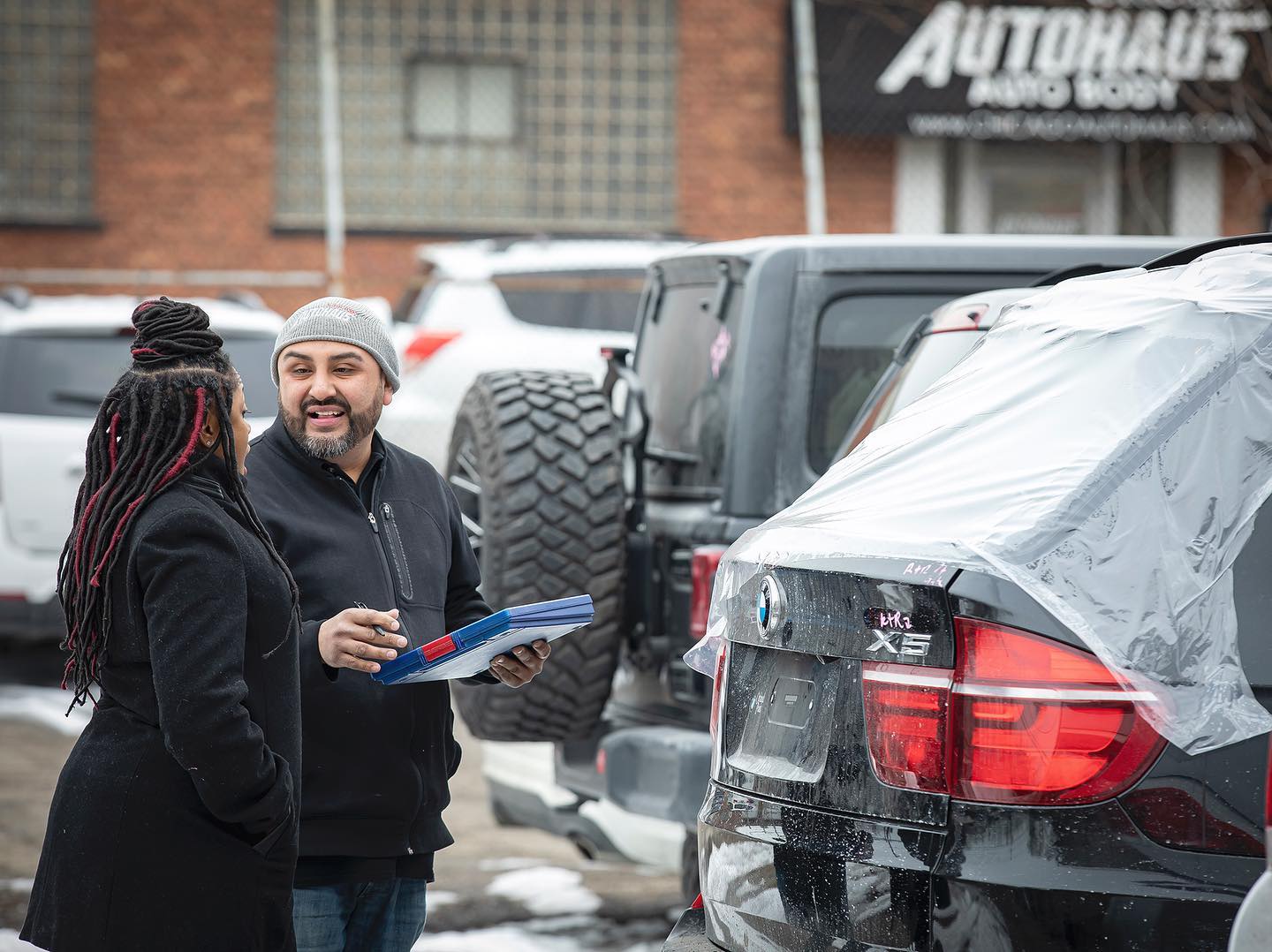 Quite simply, it's one word: You. There is nothing more important. We know your life has been inconvenienced and getting your car repaired is about the last thing you want to do. It's our job to get you back in the game as quickly and safely as possible. Come visit our shop today!
Our Reputation
Nothing means more to us than providing excellent services. Click the button below to read feedback from our satisfied customers.
Book Appointment
Ready to get your repair process started? We are ready to help you get your vehicle back on the road, in it's pre-accident condition!
2321 N Wolcott Ave
Chicago, IL 60614
(312) 835-9747